Sponsored by Mission Community Skills Centre
With the holidays over and everyone slowly getting back to work, school, and routine, many people put away their memories along with their decorations. Photos snapped of loving and laughable moments sit in digital abyss until Facebook reminds you years later that they even happened. Historically, a frame has been an architectural feature, meant to preserve work and integrate it into the room where it was displayed. When framed beautifully, your photos are elevated to artwork.
In Downtown Mission, Jessica Evans makes it her business to frame everything from artwork to photographs to mementos. Having just celebrated her first year in business, she feels so lucky that she that she is able to run her own business doing
something she is passionate about.
Originally, she was a medical office assistant feeling that she wasn't fulfilling her true purpose in life. A wise friend and squash partner offered her advice to explore her core values and passions as a way of finding the right career for her. She found her passion in Frame it On First. "I found that preserving art and treasures through framing feeds my love of art and gifting it. It allows me to work with my hands, and the hours leave time for me to play and coach squash in the evening."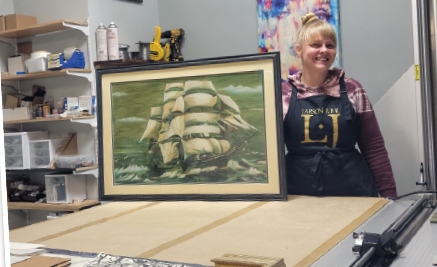 She learned everything from Phil from Claim to Frame who answered all her questions and mentored her through to her opening day. He believed in her vision and helped her realize her dream. You can always follow @frameitonfirst on Facebook to
see all of her work or you can visit Jessica Tuesdays to Saturdays, 11:00am to 4:00pm to get a quote to frame your treasures.